EXCLUSIVE BLACK FRIDAY OFFER -
PURCHASE THE BOOK BEFORE 1ST DECEMBER AND GET 50% DISCOUNT OFF MY FLAMINGO PAINTING CLASS
The Artist's Virtues offers a unique guide and inspiration to anyone who wishes to become a successful artist.
Do you dream of dipping your paintbrush into ooey-gooey paint and making marks on a canvas?
This book will show you how to turn your daydream into a reality.
You may be new to art and don't know where to start.
Or an evolving artist who wants to continue to grow as an artist.
You may wish you had a more concrete to-do list to advance your passion.
Did you know that there is artistic language and basic elements of art that can help you achieve your goals and achieve a more creative life?
ORDER THE BOOK! →
If these things resonate with you, you will find yourself on the pages of The Artist's Virtues as it guides you through the 4 stages of the evolving artist:
*

  Aspiring
*  Elemental
*  Seeing
* Intuitive
The Artist's Virtues provides hope, inspiration, and actionable steps to getting started and continue to grow as an artist.
A list of virtues to embrace and foster your creativity
A description of each stage of your art journey
Things to do to get you to the next level
The Artist's Virtues will show you where to start and how to continue to grow as an artist.
Hi there! I'm Kathleen Broaderick
I wrote this book because I felt I could help others. After decades as a hobby artist, I became a professional artist, with a studio/gallery located on beautiful 30a in Santa Rosa Beach, Florida. My primary medium is oil paint and I've taught hundreds of people what I know about that in workshops and online classes but I also ran into so many people who said, "I would love to learn to paint. I just don't know where to start".
I know where to start, I thought.
I've got to share the journey I've been through with them and the journey I see my students going through. I've got to let them know, that there are rules, elements, a path, things you can do to learn to paint.
It's not magic or just reserved for the chosen few.
That is why I wrote this book.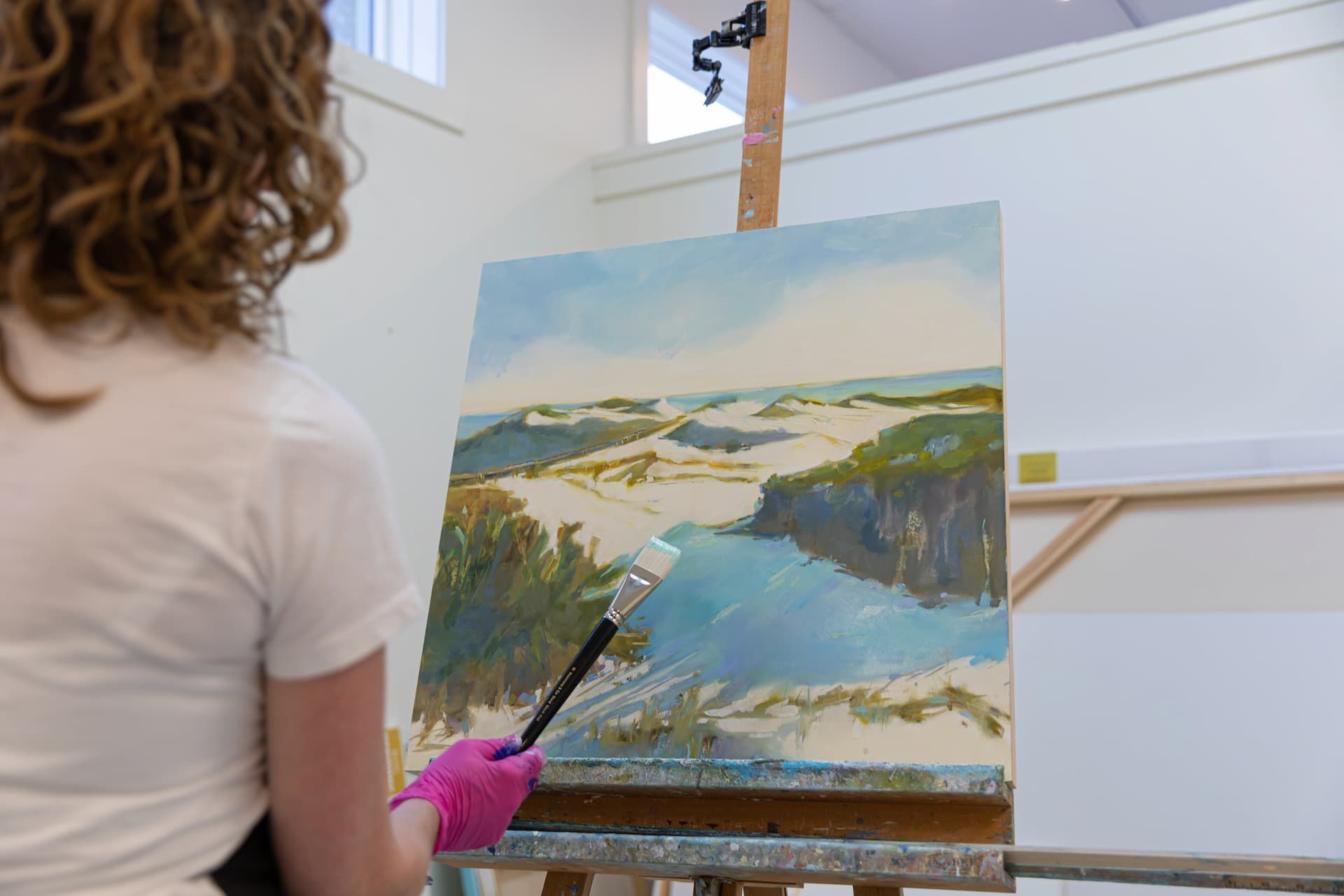 You've scrolled this far, so you might be wondering:
"Could I really become an artist and continue to get better and better?"
Yes you can!
Learning to paint is like learning any other sport or interest. If you are ready, there are concepts, rules, a new vocabulary and path you can learn that will help you to create more easily and effectively.
The Artist's Virtues will provide a framework and path to follow and inspiration to continue in this beautiful journey of a more creative life.

More things about The Artist's Virtues:
🎨
It's a guide book, not a how-to-paint book
🎨
It's a quick read, but you'll want to re-read again and again for inspiration
🎨
You may want to share it someone you know, who's always wanted to learn to paint
The study of art both develops needed technical skills and leads to the life-enriching joy of a more-than-ordinary existence.
Are you ready to start?